EXPLORING SPEEDO'S POWER COLLECTION
THE POWER OF ELEMENTS – Inspired by the explosive power of nature and from looking primarily at the four elements: Water, Fire, Earth and Air.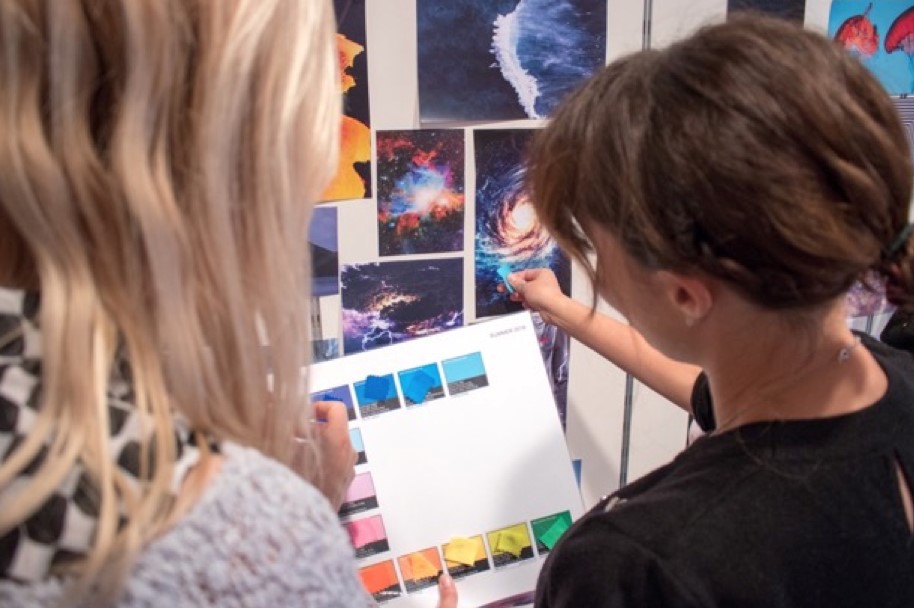 Constructing the mood board for Summer 2018
---
We talk to Emma Haws, Speedo's Women's Product Designer who explains how the power of elements theme translates into powerful digital prints in the form of unsettled waters, electric lightning bolts and explosive volcanoes.
BTS: Colour palette creation
This season, our head of design, Tahnee McIlwraith flew to the Speedo International Conference, along with all of her counterparts from around the world. The purpose being to collaborate towards a single global aesthetic and create an aligned Speedo collection of hero prints using a shared colour palette. Here they set a direction which focuses across three key themes Power of Elements, Power of Colour and Power of Imagination which all evolved from a combination on relevant trends in the sport and fashion world. And thus, Speedo's 2018 Power Collection was born.
After the global themes are set, the head designers return home to their retrospective teams and this is where the Speedo Pacific (Aus/NZ) designers started embarking on the unique styles you see in the latest collection. The Power of Colour was influenced by bold primary colours and The Power of Imagination capsule influenced by optical illusion graphics in neon pop colours. The Power of Elements story, the collections hero story, was generated by digitally manipulated images.

"The photographic prints are in blue deep hues matched with neon highlight colours". – Emma Haws, Speedo Australia
"The Women's Lava Stripe print is a great example from this [the Power of Elements] hero theme. It is a digital placement print showcasing the erupting Kilauea Volcano on Hawaii's Big Island. The lava is strategically placed, moving vertically across the body for an appealing aesthetic". Complimented by the pops of neon colour it's hard not to imagine yourself a force of nature on pool deck or sea side wearing the Lava Stripe Open X Back One Piece, and it's no wonder it's favoured by Team Speedo athletes, Kaylee McKeown, Ariarne Titmus and Minna Atherton.


Lava Stripe Open X Back One Piece

Further to the impactful design, Emma reflects "The Power of Elements capsule is an important theme in the today's environment, focusing on the Power of nature and how we are partly responsible for its outcome. With the constant reminder of global warming and how it is effecting the planet, with more dramatic outcomes, I think focusing on The Power of Elements for Summer 2018 is a meaningful message."
ABOUT THIS BLOG
Visit our blog to keep up to date with our new collections, collaborations, ambassadors and behind the scenes content.
Post of the Month
Aquabumps x Speedo: A story of origin, roots & a genuine love of the sun, surf and sand
We are proud to say this is our 7th year working collaboratively with Aquabumps and iconic photographer Eugene Tan on the Aquabumps High Summer 17/18 swimwear collection. Read post >>