Out on a limb: a runner learns to swim
---
We've all heard how good swimming is for us. It's a total body work out, it's low impact, it aids flexibility and recovery, the list goes on. But what happens when your exercise background comes from only dry ground? How easy is swimming to pick up for a runner?
Running Hero Michel Pirog went from pounding the pavement to taking the plunge into the pool. Here's what he found.
RH: What's your swimming history?
Michel: It's very brief! I am French/Polish, so I didn't grow up surrounded by water by any means. I've never had a learn to swim lesson. I'd paddle about in the ocean on family summer holidays in Brittany, teaching myself to 'front crawl.' The water was only ever about 18 degrees, so swimming wasn't too enticing to a football-mad kid.
I always liked the idea of being in water more. I was fascinated by the ocean. My dream growing up was to work with Orcas, (killer whales!) so the ocean was very enticing and interesting to me. When I moved to Australia a few years ago I was excited by the prospect of being amongst a culture that loves water so much.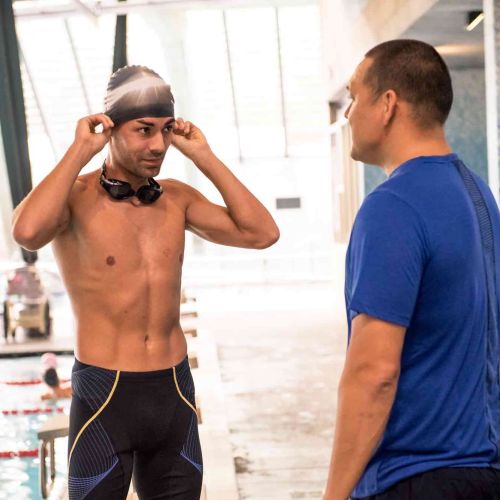 RH: Having said that, you didn't exactly make full use of the pools and oceans we have here, did you?
Michel: Yep, you got me! I didn't. I liked the idea of more time in the water, and I'd have the occasional dip in the ocean, but I never started a regular swimming habit.
I've always been a runner. I love running. I've always played football - or soccer as the Aussies say - and running is a key part of that. Running was my favourite form of exercise by far.
RH: So, what was the watershed (pun intended) moment for you?
Michel: I started working over in Manly, and I was so impressed running along the shore and seeing all these people swimming from Manly across to Shelly beach. I was blown away. It looked like a great challenge, and the water was beautiful. That definitely planted the seed.
However, it took two more factors to finally get me swimming in earnest. Firstly, I wanted to tone up and maybe put on a little muscle mass, but I really didn't enjoy the gym. I read an article on which activities activate different parts of your body, and they had a anatomy diagram with red to indicate exertion. The diagram was red all over for swimming! So, I thought, 'why slave away in the gym when you could swim?'
The tipping point though was pulling up sore from runs, taking longer to recover, and feeling like I was close to getting injured. Running is high impact, and injuries are very common. I know swimming loosens up the whole body, and is a way to get quality cardio without the impact. The case was too compelling - I started to jump in the pool and swim some laps.
RH: How do you find swimming?
Michel: It took me a while to get the hang of it, I'm not going to lie. Swimming and running fitness are different, and you're using different muscles. But once you get the hang of the breathing, and your technique improves - at the start you can feel like your hips are sinking - swimming is fantastic.
I've enjoyed the change of between running and swimming training a lot. It helps keep me physically and mentally fresher. In fact I've enjoyed swimming so much I've entered a couple of races. There was the 2km Cole Classic in open water at Manly beach. It was much more difficult than swimming in the pool, but a great challenge. That motivated me to do a sprint distance triathlon a month later, where swimming was my strongest of all three legs!
One last thing I will say is I think consistency is really important with swimming. It's like playing golf or tennis. If you don't do it regularly you won't perform as well. You lose your touch - you feel heavy and a bit sluggish in the water. I try and swim a minimum of once a week, to keep me feeling strong in the pool.
RH: You've been swimming regularly for about six months now. What would you say to runners who might be thinking about getting in the pool?
Michel: Do it! I have found swimming so helpful not only to my running, but my overall health.
I don't do yoga, but I'm now looser and more flexible than ever. I don't meditate, but swimming is my time to zone out and get out of my head. I feel calmer, I'm generally fitter, and I've toned up. The reason for all of this? You already know.
I'd say start with even 1km in the pool - broken up with as many breaks as you like - and see how you feel. They say 1km in the pool equates - in terms of difficulty - to about 5km running on the road. I know a 5km isn't too much of a stretch for most Running Heroes, so why there's no excuse not to give it a crack. I certainly haven't regretted it.
Photo credit: Running Heroes
ABOUT THIS BLOG
Visit our blog to keep up to date with our new collections, collaborations, ambassadors and behind the scenes content.
Post of the Month
Aquabumps x Speedo: A story of origin, roots & a genuine love of the sun, surf and sand
We are proud to say this is our 7th year working collaboratively with Aquabumps and iconic photographer Eugene Tan on the Aquabumps High Summer 17/18 swimwear collection. Read post >>